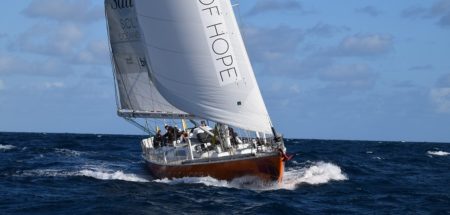 ---
From Europe
Oceans of Hope: sailing with MS in 2019
08.03.2019
We have previously featured the Oceans of Hope (OoH) yacht that circumnavigated the world in 2014. There were approximately 100 people with multiple sclerosis (MS) from 16 different countries on board. That boat traveled a total of 61,000 kilometers (33,000 nautical miles).
This initiative has been growing ever since and developed several activities. One of them is the Oceans of Hope Challenge. The Challenge consists of one-week trips with a flotilla of six to ten rented boats with a crew of six on each one, plus a skipper.  It has been initiated and coordinated by Robert Munns, a sailor with MS, who participated in the first circumnavigation and wanted to pass his life-changing experience forward to others with MS.
Previously we featured an exclusive EMSP interview with Robert Munns, but this time we managed to get some insights into the most exciting details of the upcoming 2019 Oceans of Hope initiatives. All from the one person with whom it all started: Doctor and sailor Mikkel Anthonisen, founder of the Sailing Sclerosis Foundation and Oceans of Hope.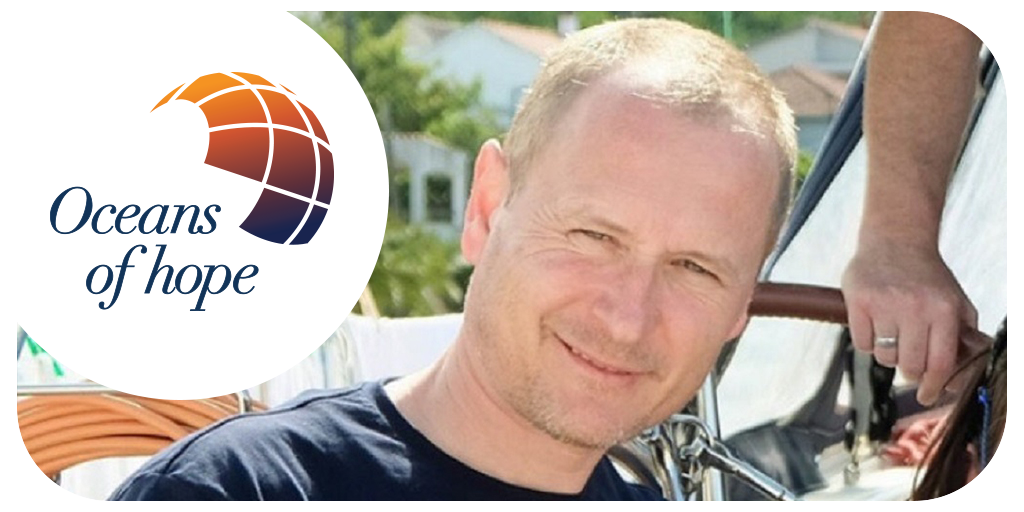 What is Oceans of Hope all about?
EMSP: How would you summarize the project in a nutshell?
Mikkel Anthonisen: Oceans of Hope is a project where we bring people with MS together, providing a community for growth, reconnecting them into the world and back into life. We are all just ordinary people, MS or not, who are overcoming challenges together.
EMSP: How did it all begin?
Mikkel Anthonisen: It all began at my work as a consultant at the Copenhagen University Hospital. One day I was sitting in front of a man with MS who happened to be a sailor. He told me about how he built his own boat to live his childhood dream of sailing around the world and how his chronic condition took this dream away from him. It was unbearable to watch him while he was telling his story. But as he left the room I suddenly came to the realization, I must be the one who sails the globe with a crew made of people with MS. I felt that this can be the way to change their mindset.
Just one and a half years later, in June 2014 we started an epic journey around the world showing amazing spirit. Almost 100 people with MS from a total of 16 countries took turns in sailing in our 20-meter sailing yacht. We managed to keep all the deadlines, sticking to our budget and most importantly, nobody had got hurt. We completed the global circumnavigation 17 months later in November 2015.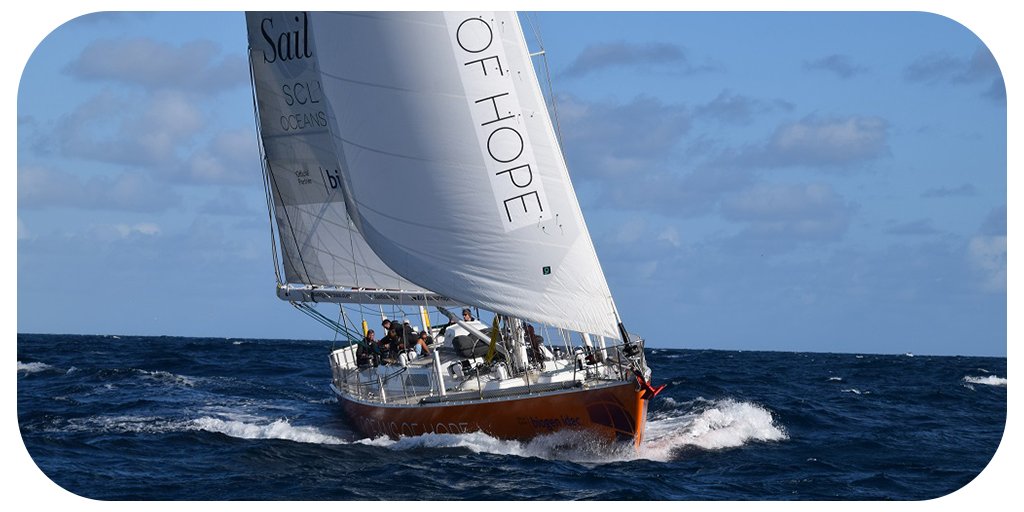 EMSP: What are the impacts and benefits of the project for MS patients from a doctor's perspective?
Mikkel Anthonisen: Multiple Sclerosis is not only a neurological but an existential disease that changes the way how people see themselves and their life. They lose the future and they don't know what the future can bring any more. Oceans of Hope changes the mindset of individuals about what human beings can do, even when they are severely affected by chronic diseases like MS. It teaches people to live in the moment, since no one knows what tomorrow can bring, and last but most importantly, Oceans of Hope makes us belong to a strong and caring community where we face and live life challenges together.
We are literally all in the same boat, but as crew members and not as patients. Everyone can contribute something and this shows to every participant that they are good enough to be part of a strong community. Isolation and the feeling of hopelessness disappear and the moment spreads into multiple dimensions with one extremely important message: "I can still do this – there is hope for the future".
A message for those who hesitate to come on board:
What's next?
This summer 2019 Oceans of Hope will organize several sailing events. Some of them as our Oceans of Hope Challenge events. Fill one of the vacant places during Easter – a perfect time for challenging yourself, and maybe get a new start on life?
The flagship, S/Y Oceans of Hope, will again this year be sailing the northern European waters and visit both Norway and Scotland. These trips are crewed by people with MS who have earlier participated in the global circumnavigation or one of our many past Oceans of Hope Challenge events.
As for the understanding of the physical and psychological factor of Oceans of Hope's success, founder and doctor Mikkel Anthonisen recently initiated a research pilot project. This activity will study the physical and psychological phenomenon as well as social capital issues of what happens on board, including the growing self-efficacy, empowerment elements and the decrease in the degree of fatigue and cognitive impairments.
Improving the quality of life of people with MS is the main goal of this study. Mikkel Anthonisen hopes that a more extensive edition can become a powerful tool in the future to raise public awareness, ultimately influencing policy decision-makers and stakeholders, while also changing the common view on the employment of people living with MS.
Other future activities include getting under-water through "Oceans of Hope Diving" or entering a whole new world through the "Oceans of Hope Arctic Expedition". Both projects aim to reconnect people with MS into life and interconnect them with nature. They extend the scope of the Oceans of Hope message: We must take care of each other – and we must take care of our beautiful blue-green planet. Stay tuned and visit oceansofhope.org for further information!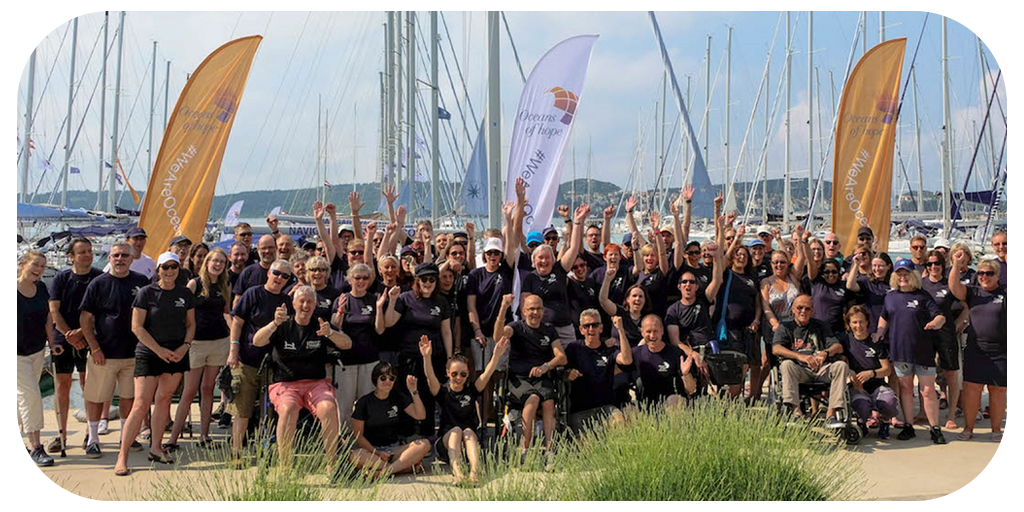 How to apply?
If you want to be part of the Oceans of Hope family, all you need to do is send an email to challenge@oceansofhope.org and register your interest. If you would like to know more about the practicalities, conditions, and costs, please do not hesitate to get in touch through the same email address.
---