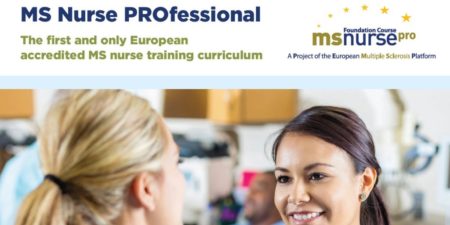 ---
EMSP News
Press Releases
MS Nurse Pro launches 6th module on rehabilitation
30.11.2017
October 27, 2017 – Paris, France – The European Multiple Sclerosis Platform (EMSP) in partnership with the European Committee for Treatment of Multiple Sclerosis (ECTRIMS) launched the 6th module of MS Nurse PROfessional, the first accredited e-learning curriculum for nurses specializing in the field of multiple sclerosis (MS).
In recent years, there has been a steady increase in the number of specially trained MS nurses in Europe. However, due to different levels of resources and awareness for different European nations, many MS Nurses across still Europe do not have access to the education, training and skills level required to support MS patients—a gap that MS Nurse Pro seeks to address.
"In Romania, there are no trainings or educational programmes for nurses to specialise in MS. Currently, there are only 12 MS nurses for over 4000 patients, with an increasing number of patients per nurse. The MS Nurse PRO is much needed especially since nurses are the main contact for patients. We need to have access to the latest news in the field." 
—Claudia Iacob, MS Nurse specialist from RomaniaWhile a wide multi-disciplinary team of doctors, therapists and nurses are necessary for patients; the MS nurse remains the central worker for coordinated care and support. As a result, EMSP in close collaboration with a wide range of European leading experts in the field, have developed a new module on Rehabilitation. This will complement the already existing 5 available modules (Understanding MS, Clinical Presentation, Diagnosis and Assessment, Treatment, Care and Support) to help nurses specialize and offer the best available support to patients.Why rehabilitation? Rehabilitation aims to improve and maintain function by reducing the level of disability a person with MS experiences via problem solving and educational interventions. It plays a very important role in improving the quality of life of patients. Participating in rehabilitation may lead to an overall improvement in emotional well-being and quality of life. It also has the capacity to empower a person with MS such that they are more confident in their functional abilities. By taking part in rehabilitation, a patient can restore lost skills and work towards regaining maximum self-sufficiency.With new therapies entering the market, the potential for increased efficacy, tolerability, adherence, and convenience for patients is evident. However, the resulting change in the treatment paradigm means that the skills required from MS nurses will inevitably expand. There will be a growing need for professional training and development. MS Nurse PRO was launched to fill this gap and offer MS nurses the education and knowledge on the wider range of treatments and therapies."People living with MS hugely value their nurses. EMSP's session with nurses in collaboration with RIMS, IONMS & ECTRIMS goes beyond the education of nurses in MS. It provides support, on-line tools & solidarity amongst nurses across Europe. The MS Nurse Pro on-line curriculum is an enabling tool & support for nurses. By ensuring that MS nurses are skilled and educated to respond to the changing treatment landscape we can ultimately improve the safety and consistency of care provided to those affected by MS."
—Anne Winslow, President of the European Multiple Sclerosis Platform
Quick Facts:
MS Nurse PRO is an online foundation level resource providing a modular training curriculum to support the evolving role of European MS nurses.
Targets MS nurses starting their professional careers as well as those healthcare professionals with a caseload of MS patients and/or an interest in MS.
Currently available in 11 languages with over 4000 nurses enrolled across the world.
The program has been approved by the International Council of Nurses (ICN) for the award of International Continuing Nursing Education Credits (ICNECs) and is endorsed by leading national and international patient and professional groups.
EMSP is an umbrella NGO of 40 national MS organizations in 35 European countries working to raise the voice of patients through advocacy, awareness-raising, knowledge sharing and encouraging research and data collection
ECTRIMS is a non-profit organisation and an independent representative European-wide organisation devoted to MS.
The MS Nurse PRO was developed in cooperation with Rehabilitation in Multiple Sclerosis and the International Organization of MS Nurses.
This program is supported by educational grants from, Bayer, Biogen, Merck, Novartis, Roche, Sanofi Genzyme and TEVA.
For more information visit www.msnursepro.org and follow @eumsplatform on Twitter.
Links
---