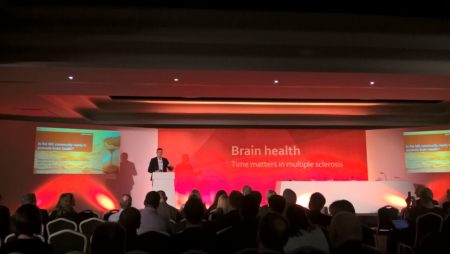 ---
From Europe
MS Brain Health report: Time Matters in Multiple Sclerosis
14.10.2015
How much does an MS relapse cost? On average: 4,000 euros. This, and plenty more interesting MS facts, can be found in the MS Time Matters report launched on 7 October, in Barcelona, Spain by the MS Brain Health initiative.
Find the report here.
Led by renowned neurologist Gavin Giovannoni and supported by EMSP, this report lays out three sets of recommendations for a number of stakeholders – patient groups, national bodies and healthcare professionals among them:
Minimise delays in the diagnosis of MS
Set goals for treatment aiming for best possible outcomes in individual cases
Consult the most robust evidence base possible and generate new evidence
"Multiple sclerosis has a profound personal, social and economic impact. But better outcomes for people with MS and those who care for them can be achieved."
MS advocate George Pepper is among the authors of the report. Speaking at the launch, under the motto "I have MS, I am not a doctor", he said there are a number of barriers in access to treatments for people living with MS.
But even when treatment can be acquired, George Pepper continued, it is extremely important that patients and healthcare practitioners decide together on the right drug. "I have changed six disease-modifying treatments in 11 years since my diagnosis", he shared.
Health economist Gisela Kobelt contributed to the economic side of the report. Also present at the launch, she said that "productivity is not tied to physical disability, but possibly to cognitive functions". Her conclusion: "It is important to preserve brain health!"
Find a MS Brain Health pledge here.
EMSP was represented in Barcelona between 6 and 10 September at the 31st Congress of the European Committee for Treatment and Research in Multiple Sclerosis (ECTRIMS 2015).
Find out about EMSP's activities at ECTRIMS 2015 here.
---