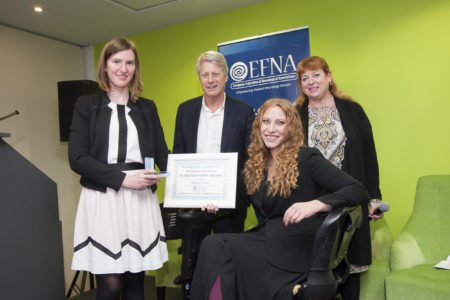 ---
From Europe
MS advocate Shana Pezaro wins EFNA award
14.10.2015
EMSP's Young People's Representative, Shana Pezaro, was among the winners of the European Federation of Neurological Associations' (EFNA) Advocacy Awards ceremony, organised on 13 October, in Brussels, Belgium.
Upon receiving the award for her outstanding work on multiple sclerosis (MS) advocacy, Shana Pezaro stressed that the daily lives of people with chronic conditions such as MS are affected in many different ways:
"On top of access to medication, rehabilitation, welfare, employment and social care, there are other problems which massively impact our lives: identity, sexuality, body image, social isolation and relationships. And crucially: the matter of employment and having a future career."
Shana Pezaro, 36, (pictured above) was diagnosed with MS eight years ago. She lives in Brighton, UK, and collaborates extensively with the UK MS Society and EMSP in her advocacy work.
She writes a community blog here.
Shana Pezaro was nominated for the EFNA award by EMSP, where she is a board member representing young people with MS.
Present at the ceremony, EMSP's Chief Executive Maggie Alexander (pictured above, on the right) said that Shana Pezaro demonstrates the value of expert patient influence on health policy and healthcare decisions:
"MS is a devastating diagnosis because it affects people at the prime of their lives, but many of these young people have used this experience to not only transform their lives, but also the lives of others. Shana Pezaro has done so on many platforms: local healthcare services, the UK government, the European Parliament and so on."
The other three awards handed out at EFNA's event went to:
Jeroen de Schepper for raising awareness of Huntington's disease
Prof Cristina Tassorelli for her research in headache disorders
Former MEP Gay Mitchell for his support for epilepsy advocacy
---