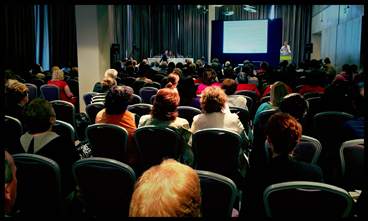 ---
EMSP News
Landmark launches, top level speeches and key elections at EMSP's 25th Anniversary Spring Conference and AGM
10.05.2014
The European Multiple Sclerosis Platform (EMSP) held its Annual Spring Conference on 8-9 May, in Dublin, Ireland. Close to 200 participants attended to mark a special occasion: EMSP's 25th anniversary.
Together with event partners Multiple Sclerosis Ireland (MS Ireland) and Rehabilitation in Multiple Sclerosis (RiMS), EMSP offered those present at the Conference a dynamic mix of presentations, workshops, debates and entertainment.
In the subsequent Annual General Meeting, on 10 May, EMSP elected a new President, Vice President, Young People's Representative and Executive Committee.
Day 1 of the Conference was endorsed by RIMS and focused on rehabilitation, while Day 2 was organised with the support of MS Ireland and centered on therapies and recent developments in the field of MS.  Among the highlights of the two days:
– Launch of Defeating MS Together, a comprehensively updated version of EMSP's European Code of Good Practice
– Launch of EMSP's new Believe and Achieve project
– Launch of the Irish country video included in the Under Pressure project
– Special video message from European Health Commissioner Tonio Borg
– Presentations and addresses from Irish Minister of State for Health, Justice, Equality and Defence, Kathleen Lynch, and European Medicines Agency Head of Department for Patients and Healthcare Professionals, Isabelle Moulon
– Presentations and addresses from specialists such as Prof Peter Feys, Dr Olivier Heinzlef and Prof Gavin Giovannoni
– A 'well-being market place' coordinated by Prof Peter Flachenecker and introducing a brilliantly energising sit-Zumba session from physiotherapist Paul van Asch.
The enthusiastic participation of all delegates was rewarded by a memorable evening of dance and music from traditional bandThe Irish House Party and London-based vocal jazz group Take Twenty.
EMSP's Annual General Meeting (AGM) also had a busy agenda and important decisions to take:
– The successful conclusion of John Golding's mandate as EMSP President
– The election of a new president in the person of Anne Winslow (pictured above), former EMSP Vice-President.
– The election of a new Vice-President – Antonella Moretti, representing the Italian MS Society (AISM)
– Te re-election of the Treasurer – Torben Damsgaard of the Danish MS Society
– The election of a new Young People's Representative – MS advocate Shana Pezaro
– The election of a new Executive Committee: Olivier Heinzlef (MS Society of France), Ed Holloway (UK MS Society), Christoph Lotter (Swiss MS Society), Maija Pontaga (MS Society of Latvia) and Constantinos Michalakis (Greek MS Society)
---