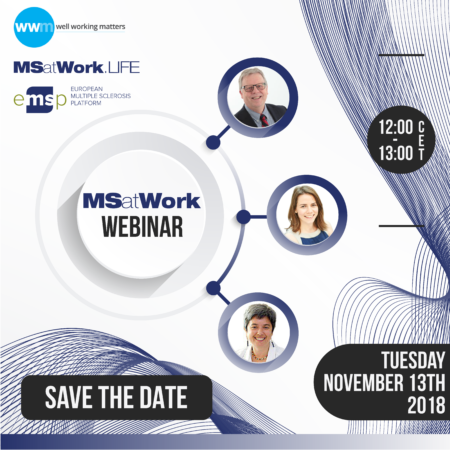 ---
EMSP Events
EMSP News
EMSP MS@Work: join us in our first MS at Work Webinar!
12.11.2018
EMSP MS@Work Webinar
Work and employment have been part of EMSP's work for the past 20 years. In particular, we've looked at ways to break down barriers by showing the real-life issues people have to deal with. We've been ahead of the curve, working closely with the people who know the issues first hand – people with Multiple Sclerosis and employers.
If the research tells us anything, it is that improvements in early intervention, treatment and return to work practices could help people of working age with MS stay in work. There is a strong relationship between work and health. In many cases work has been found to have a positive effect on the health and wellbeing of people with chronic illness, including MS.
In November, we will be kicking-off a series of webinars on how to stay at work with MS.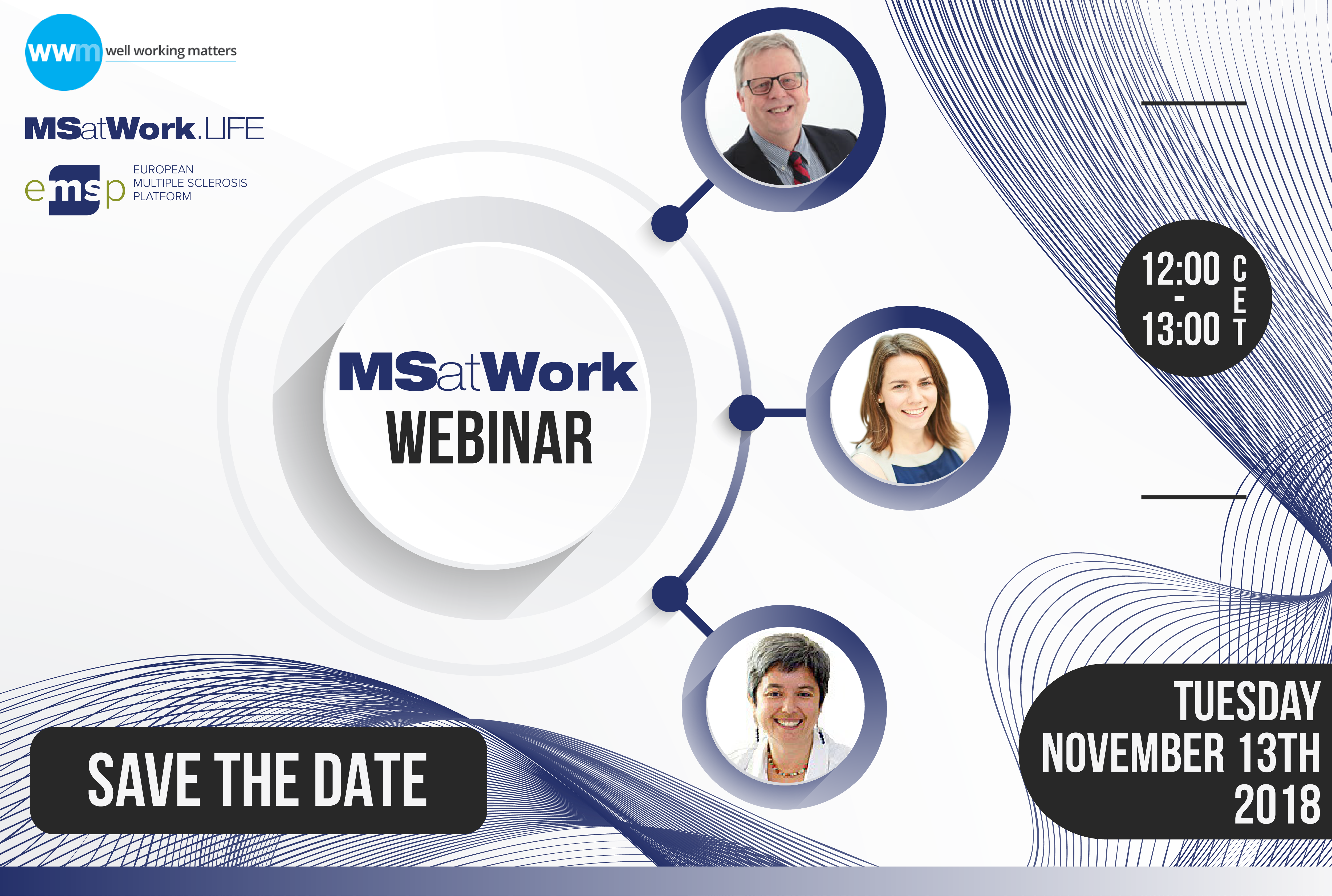 Return to work, financial security and having a chronic illness
On the 13th November 2018, Graham Halsey, an expert in Return to Work, Mental Health and absence management, will give practical, actionable takeaways to address the challenges of having MS and staying at work in the MS@Work 1.0 Webinar.
MSers, employers, policy makers and patient representatives will benefit from Mr Halsey's strategies to supporting people with MS to stay in the workforce.
Why should you participate?
This will be a great opportunity to learn:
What to do, or not to do about work when you're diagnosed with MS;
How staying in work affects a person's mental health and general health;
About the impact of under/unemployment on a person with MS;
Practical steps for people with MS to get back to work;
About absence management evaluation and how robust methods of recording employees' absences, might help assess the related cost for the employer;
How the benefits of staying professionally active extend from the person with MS, to businesses, community and the local economy.
In addition, you will have the opportunity to ask your questions on employment and MS & have them answered. Use #MSatWork and Tweet to @eumsplatform
Who can participate and how?
The webinar is open to everyone: people with MS, patients representatives, employers, businesses, colleagues, carers and those who simply want to learn more on this topic.
The webinar will be in English.
Join Emma Rogan, EMSP expert on Employment and work expert Graham Halsey on Tuesday November 13th at 12 CET.
Please contact emma.rogan@emsp.org if you have any question.
MS at Work Webinar 2.0 will follow in December featured by renown Neuropsychologist, Yolanda Higueras.
---