---
EMSP News
EMSP at ECTRIMS 2019: 11-13 September, Stockholm, Sweden
02.09.2019
ECTRIMS brings newest MS research to Stockholm
The 35th ECTRIMS (European Committee for Treatment and Research in Multiple Sclerosis) Congress is just around the corner.
From 11 to 13 September 2019, ECTRIMS, the world's largest annual international conference devoted to basic and clinical research in multiple sclerosis (MS), will host up to 10,000 delegates in Stockholm, Sweden to discuss the latest findings in MS.
We will be there. Will you?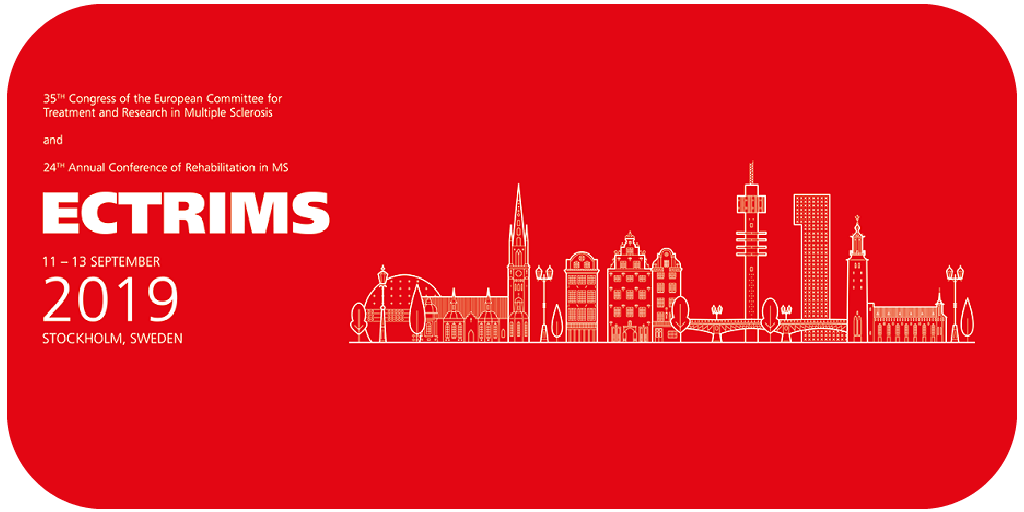 EMSP at ECTRIMS 2019
If you are attending, make sure to drop by our exhibition stand (D03) to greet the EMSP staff, to learn more about our projects and you might have a chance to win a bursary for the #EMSP2020 Annual Conference in Madrid, Spain.
Don't miss out! We are preparing a wide variety of activities for those who decide to visit us.
N2B-Patch: Booth talk on an EU Funded MS research project
The N2B-patch (Nose to Brain Patch) research project aims to develop an innovative technology for MS treatment by creating a 'nose to brain' patch – a delivery system that could offer direct transport route of various drugs from the nasal cavity to the brain, bypassing the blood-brain barrier. Overcoming the blood brain barrier would potentially improve efficiency of drugs and the novel drug delivery system will ultimately offer people with MS an alternative to often uncomfortable and painful injections or the need of oral medicine.
Join Prof. Dr. med. Andrew Chan, member of the Scientific Consortium who will present N2B-patch in a dedicated session at the EMSP booth.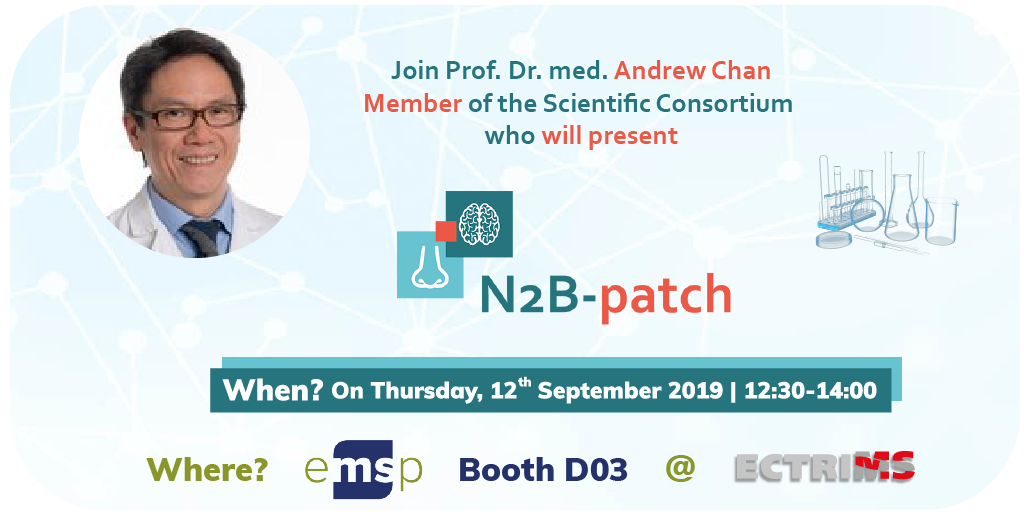 MS Nurse PRO informal meet-up
MS Nurse PROfessional is a European-focused, e-learning training curriculum for MS nurse specialists and nurses who work with or would like to work with people with MS. The online course is currently available in 11 different languages and has been endorsed or accredited in 15 countries.
Learn more about this essential online foundation course at our booth and meet the members of the MS Nurse PRO Steering Committee during an informal meet-up.
If you are interested, please make sure to register by contacting: msnursepro@emsp.org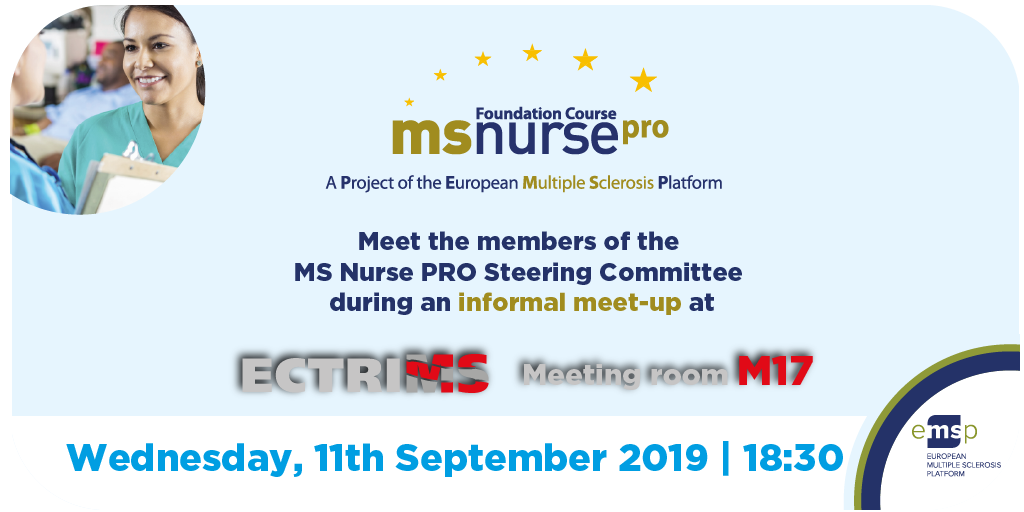 MS Data Alliance (MSDA) Update and Q&A
MSDA is a multi-stakeholder collaboration working to accelerate research insights for innovative care and treatment for people with multiple sclerosis (MS). The MS Data Alliance envision a patient-centred learning health system in which all stakeholders contribute and use big data to co-create the innovations needed to advance the timely treatment and care of people with MS.
Meet the MS Data Alliance team at the booth of the European Charcot Foundation (D70-D72) and EMSP (D03), or attend one of their info-sessions to learn more about the project's recent progress:
Info-session 1: Wednesday 11 September – 16:00 – 17:00 (Room K24)
Info-session 2: Thursday 12 September – 11:30 – 12:30 (Room B9)
If your schedule is tight, check out the poster session 3 (Friday 13 September – 12:15 – 14:15) and make sure to have a look at the MSDA poster (P1400).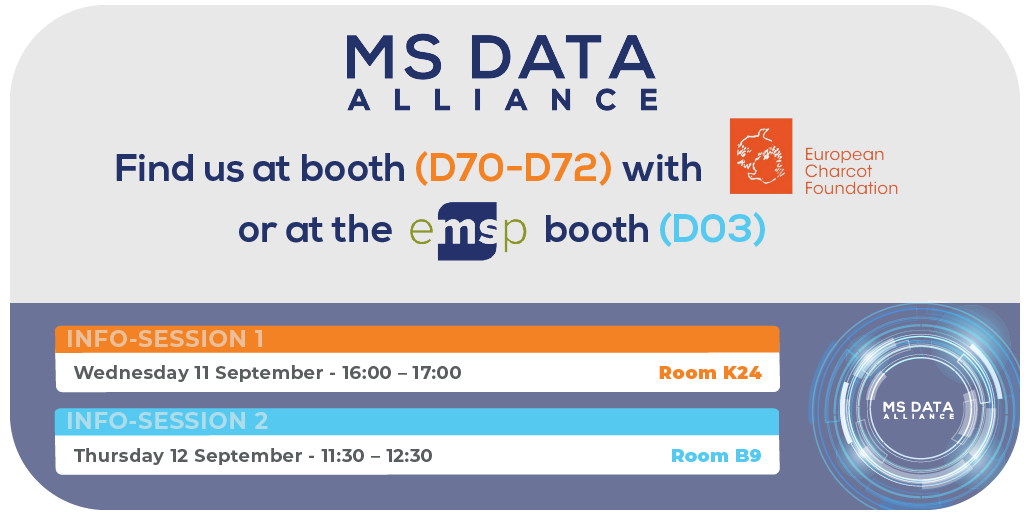 Win a place to the #EMSP2020 Annual Conference in Madrid, Spain
Take our entertaining booth quiz during #ECTRIMS2019 and try to win your place for the next #EMSP2020 Annual Conference to be held in May 2020 in Madrid, Spain.
Pass by our stand (D03), answer 9 questions and if you manage to get 6 of them correctly, you'll automatically qualify to the raffle.
Read the rules of the 'EMSP | ECTRIMS 2019 Quiz' here.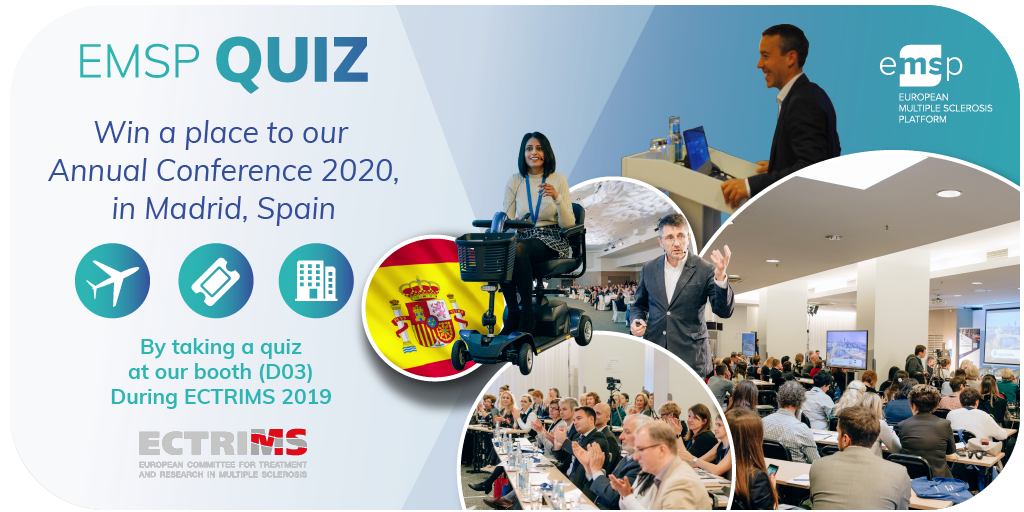 #ECTRIMS2019 READY, SET, GO!
To get the most out of this year's congress, check out the official ECTRIMS programme, the list of educational sessions and mark #ECTRIMS2019 in your calendar.
But most importantly, do not forget to come by and say hello to EMSP Staff at booth D03!
---