---
EMSP Events
EMSP Events|EMSP News
EMSP News
EMSP News|From Europe
My Multiple Sclerosis, My Choice: EMSP Conference in Madrid, Spain 29-30 April
27.04.2022
The European MS Platform, in partnership with Esclerosis Multiple Espana (EME) and bring experts and patient organisations from across Europe to a hybrid event (online and IRL) to re-imagine European MS Care policy in 2022 & beyond.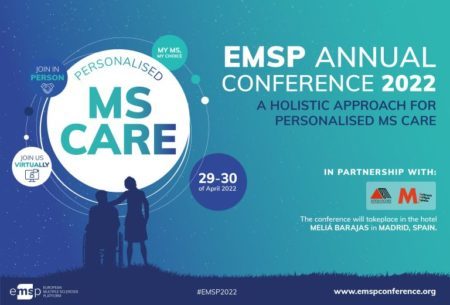 Click here to register and join online
The theme of this year's conference is "A Holistic Approach for Personalised MS Care''. The personalised care model seeks to deliver whole population approaches to support people of all ages and their carers to manage their physical and mental health and well-being, build community resilience, and make informed decisions and choices when their health changes.
During the past 2+ years of the Covid pandemic, MS carers, healthcare professionals and organisations developed new methodologies of intervention, trying to bridge gaps in health and social policy. However, there are disparities across Europe when it comes to access to treatments, discrimination in employment and lack of consultation of people with MS, leading people living with MS being left out of policies that directly impact their lives[1]
2020 MS Barometer https://msbarometer.eu/2020   
---