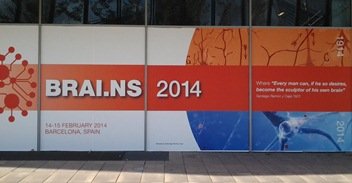 ---
EMSP News
EMSP at BRAI.NS 2014: A patient/carer perspective
16.02.2014
EMSP was a leading participant in a two-day conference focusing on brain-related issues – BRAI.NS 2014 – organised on 14-15 February, in Barcelona, Spain.
EMSP's (then) President John Golding and Deputy CEO Christoph Thalheim gave keynote speeches in front of a specialised attendance of more than 500 stakeholders from the fields of neurology, brain disorders and research – university professors, neurologists, EU decision-makers and industry partners among them.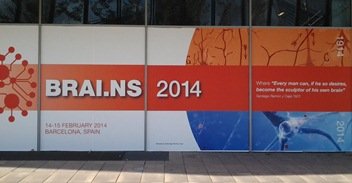 John Golding and his wife Elisabeth (pictured below) delivered an inspiring presentation from a patient/ carer perspective, telling the story of how they coped and are coping with multiple sclerosis.
A detailed report on BRAI.NS 2014 is available on EurActiv.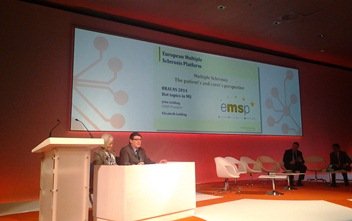 Also, Christoph Thalheim supported by the EMSP team for BRAI.NS 2014 spoke about the unmet needs and societal challenges of MS.
Other key speakers included Mary Baker (European Brain Council), Sean Hill (Human Brain Project) and Octavian Quintana (European Commission).
The event also featured a scienfic exhibition which hosted a kiosk with key elements from EMSP's visual identity and messaging.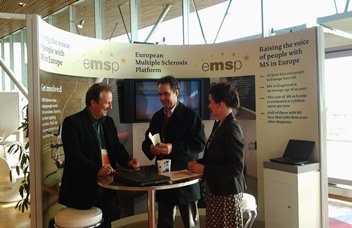 A recurrent theme in EMSP's presence at BRAI.NS 2014 was the usage of Under Pressure images and videos – emphasising the health inequalities in MS managament across Europe.
BRAI.NS 2014 was organised by pharmaceutical company Novartis. The event advocated for a "brain-political road map" under the motto 'Understanding the brain: Where are we in 2014?'
---