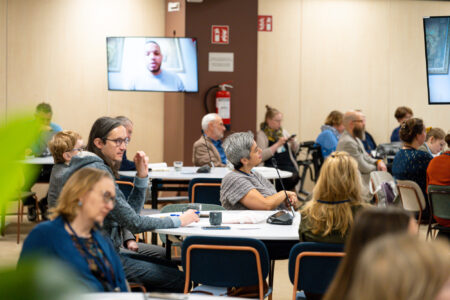 ---
EMSP Events
EMSP Annual Conference 2023 – Social Policy: A Better Life for People with MS
27.07.2023
People came from the warm shores of the Mediterranean, the colder climes of the Atlantic coast and central Europe… it was with eagerness that EMSP members gathered in Helsinki for the EMSP Annual Conference 2023.  
It was a four-day intensive schedule of meetings, presentations and workshops in the Scandic Hub Hotel in the centre of Helsinki, Finland co-hosted by Neuroliitto, the EMSP Finnish member organisation. 
In the days before the official conference, there was the standard business of the Executive Committee followed by a working time of the member organisations at the Annual General Meeting (AGM) where issues for the organisation were addressed, discussed, and voted on. This is a vital aspect of our organisation and was a time to hear about the issues EMSP members are dealing with on a day-to-day basis including funding issues and financial implications of the fall-out of the past three years of global upheaval.  
The Covid-19 Pandemic is still wreaking havoc across the region, there is displacement of millions of people, Climate Change, and the cost-of-living pressures on vulnerable communities.  The EMSP Conference is an opportunity to reassess our work and to seek out learning from others while looking for innovative ways to deal with recurring issues in our respective nations. During this Helsinki conference, members had an opportunity to share strategies while learning from leading experts on a wide range of topics that come under the Social Policy theme.  
EMSP Annual Conference 2023 Day 1
Starting with an energising welcome from EMSP President Herbert Hemmes and Helena Ylikyla-Leiva – CEO of ​Neuro-Liitto, attendees spent two days immersed in learning and networking with colleagues and reconnecting with familiar friends.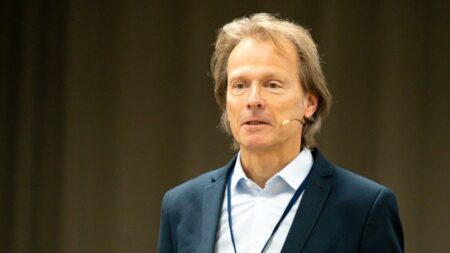 There was a broad range of speakers on a range of topics with one common thread- social policy. From Day One with topics of Employment with Professor Anthony Woolf (UK) and a joint satellite session with Dr Giampaolo Brichetto from EURIMS (live from Italy) followed by a panel discussion Suvi-Maaria Tepora-Niemi, Julia Anttilainen, Bettina Hausmann, Jan Van Amstel. Marginalisation and Social Inclusion are issues that, as a community, need greater attention. Professor Heikki Hiilamo (FN) shared his insights on the issues followed by Izabela Litewska, PhD (PL) who spoke on social indicators of good MS Care. There was a much anticipated and lively discussion panel with Amandeep Donna Nahal (UK) and Tania Pilz (AT) where we heard the importance of being inclusive and ensuring outreach and space for Black, Indigenous, People of Colour, LGBT+ and minority people with MS in all our work. Family, Pregnancy and MS issues was presented by Professor Elisabeth Celius Gulowsen (NO) followed by a panel discussion with Piet Eelen CNS (BE), Aoife Kirwan (IE), Kertu Tuuling (FN).  
Panel discussions allow for the audience and panellists to discuss difficult topics in a supportive, understanding environment. The conference gave attendees options to use their activities to bring about social change in their own countries. Conscious of the upcoming EU elections in June 2024, EMSP CEO Elisabeth Kasilingam led the attendees on a path to understanding how to use their voices to ensure the issues of people with MS are heard by decision-makers and policy officials.  
To wrap up Day 1, Bettina Hausmann reminded the conference-goers of the importance of the issues that impact the lives of all people with MS – social systems.    
EMSP Annual Conference 2023 Day 2
On Day 2 the motivating energy of Bettina Hausmann had really taken hold! To start the day there was the invigorating 'Just Do It!' session with Chris Wright (USA), NBA basketball player who lives out and is proud of his MS. After he was diagnosed with MS, he was told to forget about basketball by many before he found a doctor who supported his vision. He encouraged everyone to discover our 'WHY' so we invigorate our lives so we can navigate the challenges to keep striving for our dreams. No matter what people say, knowing your 'why' will get you through even the most difficult times.  
Confronting the difficult issues together by talking openly and realistically, EMSP members help all people affected by MS get through the challenges and support one another. Dr Alessandra Solari (IT) presented on Palliative Care and Long-term Care of people with MS followed by a panel discussion with Merja Vettenranta-Pohjanlehto (FN), Amandeep Donna Nahal (UK), Professor Sascha Köpke (D) and Yolanda Higueras (ES). EMSP organisations live in countries with social systems that have been so drastically altered with the pandemic with subsequent gaps in health and social services provision. These issues seem insurmountable but Naja Skow-Rasmussen, presented on systems change and how to tackle the issues in a strategic way. Attendees then had an opportunity to work together on the issues during the afternoon workshop sessions.  
Interim CEO Jana Hlaváčová reflected on her six- months leading EMSP before handing over to Elisabeth Kasilingam to close the conference.  Despite the short time together, the days were packed with ideas and implementable ways to lead on social change, learning about the impact being left out makes on the lives of people with MS, how to make your voice heard at policy and decision-making level and what to do to reduce inequalities that people with MS face with access to services and employment. In 2024 the EMSP Conference will be co-hosted with the Belgian MS Society between 17-20 April 2023 in Brussels. We look forward to welcoming you once again!  
Official Photo Gallery of the EMSP Annual Conference 2023
---