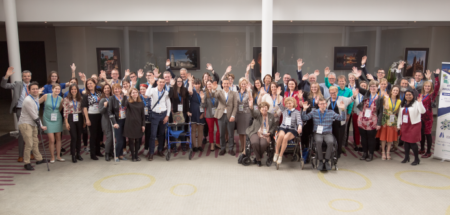 ---
EMSP Events
EMSP Annual Conference 2019
19.12.2019
A 'to-go-to' meeting for patients, healthcare professionals, industry, patients' organisations, policy decision-makers and key opinion leaders in the field of Multiple Sclerosis (MS). This year was a special edition for EMSP, since the organisation also celebrated its 30th Anniversary.
The conference brought together 172 participants from 32 countries and provided a platform to engage in a dialogue on the needs of the people with MS and how this should be addressed politically both at European and national level.
This year's Conference theme was Digital Health in MS Management, raising the following topics:
what would digital innovation bring for people with MS?
developments on electronic recording and better evaluation of the symptoms;
progress on supporting care management by the patients within a multi-disciplinary approach framework;
developments on data collection systems;
Over 750,000 people are affected by MS Europe-wide. MS treatment costs are estimated between 15 and 20 billion euros per year in our continent. Currently, the means used to follow and treat MS are not optimized.
The patient assessment relies on a score coming from medical standards tests (MSFC, EDSS…), which are hard and lengthy to conduct and present several limitations.
We strongly believe that connecting health data across Europe to support evidence-based care will bring a difference in the quality of care received by MS patients.  Furthermore, digital applications and health records empower individuals to better understand and manage their health and well-being. Technologies and digital tools are allowing healthcare professionals to deliver services remotely, thus improving access and facilitating communication between patients and healthcare professionals.
For the official photos please visit our FlickR Photo Gallery!
Improving the lives of people with MS through digital health
Pedro Carrascal, President of EMSP, in his open speech on the 10th May in Vilnius, stressed that EMSP's creation was underpinned by the urgent need to address the issue of multiple sclerosis. 30 years later, this is still as relevant.  He emphasized that we need to continue working to improve the quality of life of people and the topic of digital health is extremely important, especially before the European elections. Digital health could play a major role in improving the quality of life of MSers and mobile applications can help better self-manage the disease.
Tadas Jačiauskas, Chairman of the Lithuanian MS Union (LISS), co-organiser of the event, opened the annual conference by sharing his experience about living with MS. Early diagnosis and efficient & effective treatment have been key to  help him live a  fully participative life and proceed with his career as a journalist. There are almost 3,000 people living with MS in Lithuania and LISS is working to advocate and raise awareness to ensure that the quality of life of people with MS is improved.
Rimantė Šalaševičiūtė, Representative of the Committee on Social Affairs and Labour of the Lithuanian Parliament gave a warm welcome to the attendees highlighting the importance of digital technologies in health through their national example on e-health. She pinpointed that all new trends and technologies are very important, but patient participation in decision-making is critical.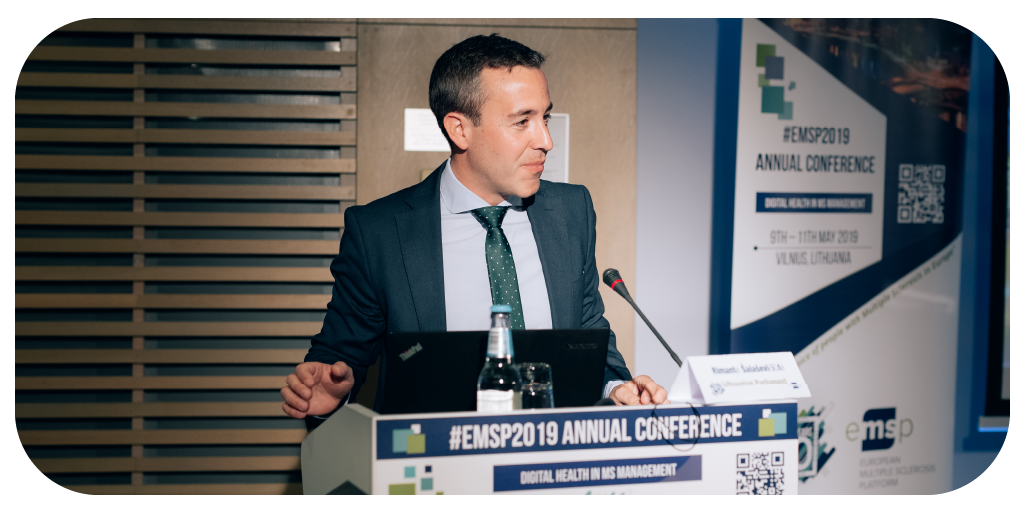 Latest developments in brain health in a digitalised world
Sabina Brennan, psychologist and neuroscientist at the Trinity College Dublin, opened the first session on the latest developments in brain health in a digitalised world. Digital health is rapidly evolving. She gave a comprehensive overview of digital trends and their practical applications, such as patients' data, personalised medicines, artificial intelligence, digital assistants, voice recognition, virtual reality, mobile applications, wearables, genetics and health sensing.
Patients should remain  active as long as possible. Everyone benefits if patients are involved as experts and equal contributors across all stages of the research process.
Daphne Kos, Vice President of Rehabilitation in Multiple Sclerosis, talked about a multi-disciplinary approach in rehabilitation and how digital health can improve that. S The use of digital technology in rehabilitation is current and offers multiple opportunities. However, the trust in
in smartphone technology skills is not that high and should be considered in digitalisation initiatives.
The latest priorities on digital health policies at European level were presented by Nicola Bedlington, former Secretary-General of the European Patients Forum (EPF) who shared a robust campaign developed by EPF, where one of the five key messages is driving the development of digital health. The patients' expectations in digital healthcare to be taken into account are: self-management, better quality of life, health literacy, person-centricity, relationship between patients and family and the participation in research and care processes.
Mrs. Bedlington highlighted the Digital Health Briefing which gives an overview of relevant concepts to ensure that all EPF members have a "go-to" document as digital health moves forward rapidly. Artificial Intelligence and machine learning have been a key priority area for EPF in 2019 and a hot topic on the European Institutions' political agenda.
She also drew attention to digital health inequalities which require appropriate policies and fair practices.
The Data Saves Lives Initiative was presented. It aims to create a European Health Data Platform that will build awareness and understanding on the use of the health data and provide a trusted environment for dialogue at European level.
Last in the first session Susanna Van Tonder, member of the MS Society of Luxembourg and EMSP Young People's Network gave a young person's perspective on digital health in MS management. Digital health connects people to information and to each other. It is an important tool of community building that helps us realize that we are not alone. The digital health means using technology to improve health and health outcomes and digital tools can help assess disease progression/management while the data generated can be useful for research, healthcare, and quality of life on a wider scope. It is of crucial importance after diagnosis to connect with other people living with MS, sharing the same experience. This can be done via social media platforms and can be a way to find information, connect with professionals and MS societies.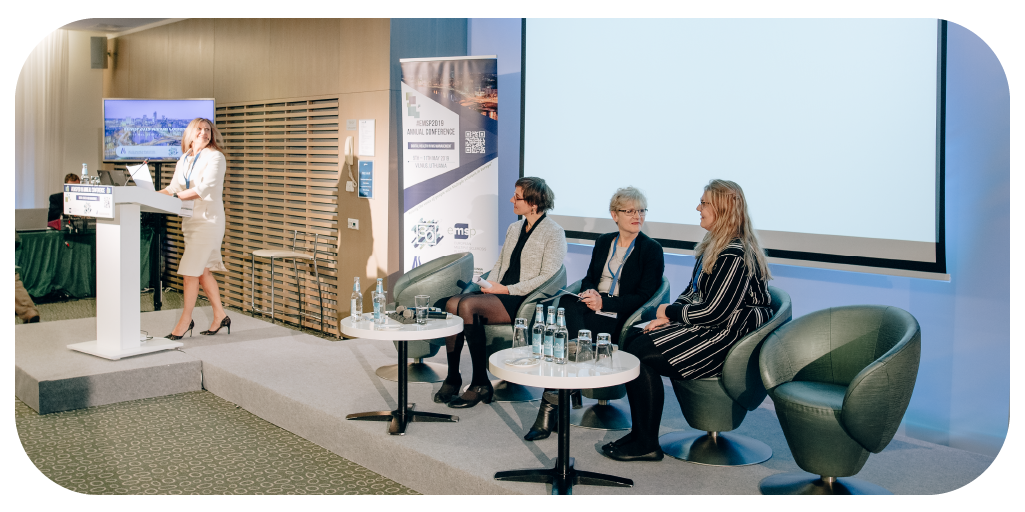 Research and innovation – trends vs real needs
Marcello Moccia from the University College London opened the second session focusing on the latest key developments in research and innovation in digital health. He pointed out digital treatment of MS and its symptoms. For example, physiotherapy delivered through the internet, web-based fall prevention program works, and others. Marcello stressed the importance of digital management of MS electronic healthcare records, digital images, vital signs and diagnostic information.
A practical example of a digital tool that helps to improve the quality of life of people with MS was presented by Ignacio Aizpún from the Telefonica Disabled Attention Association (ATAM). This intervention was followed by an active panel discussion on the expectations from the patients' communities, whom should be made aware and collaborate for further successful implementation. We were pleased to welcome Marcello Moccia (UCL), Ignacio Aizpún (ATAM), Vanessa Pott (Merck), Steven van de Pavert (Icometrix) and Georgina Carr (UK MS Society) on that panel.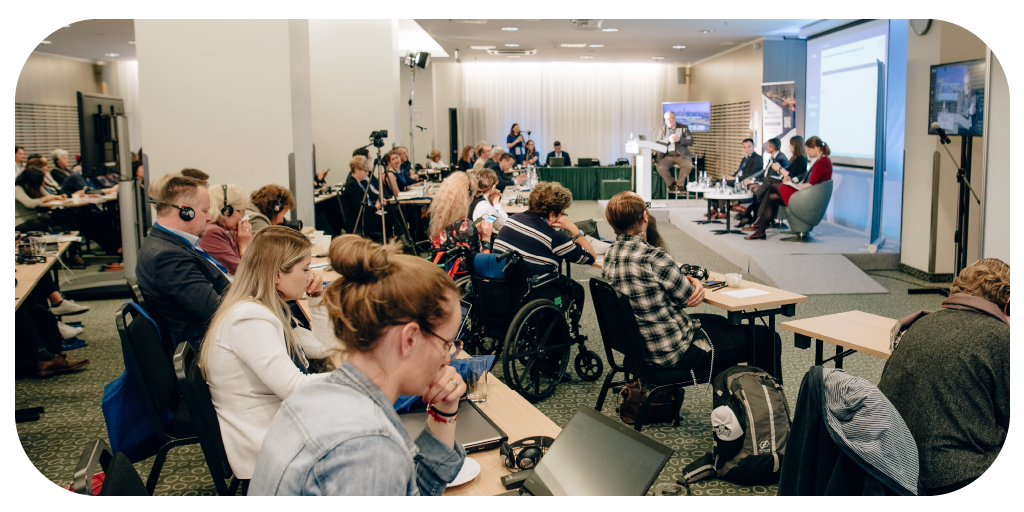 A truly motivational afternoon kick-off
The afternoon session was kicked-off by Izabela Sopalska-Rybak from Poland, who shared her truly motivational story about her diagnosis and how learning to cope with Multiple Sclerosis (MS) changed her life, making her MS a challenge rather than a problem.
Digital health policies and digital-driven decision-making processes
Having discussed such a wide variety of topics, we were far from finished. A first panel moderated by Donna Walsh, Executive Director of the European Federation of Neurological Associations (EFNA) and composed of Nicola Bedlington (EPF), Arnfin Bergmann (Neurologist, HTA expert & CEO of NeuroTransData GmbH), Georgina Carr (UK MS Society) and Jana Hlaváčová (EMSP Board Member) debated on how better digital health policies could support the improvement of MS management.We closed day one with a panel discussion on improved digital information. Paola Zaratin, (Italian MS Society), Arnfin Bergmann (CEO of NeuroTransData), Liesbet Peeters, (University of Hasselt), Adam Plich (Pricing & Market Access Consultant), Paula Williamson (Professor of Medical Statistics, Biostatistics, University of Liverpool) Jana Hlaváčová (EMSP Board Member) were discovering the pathway for evidence-based decision-making processes together.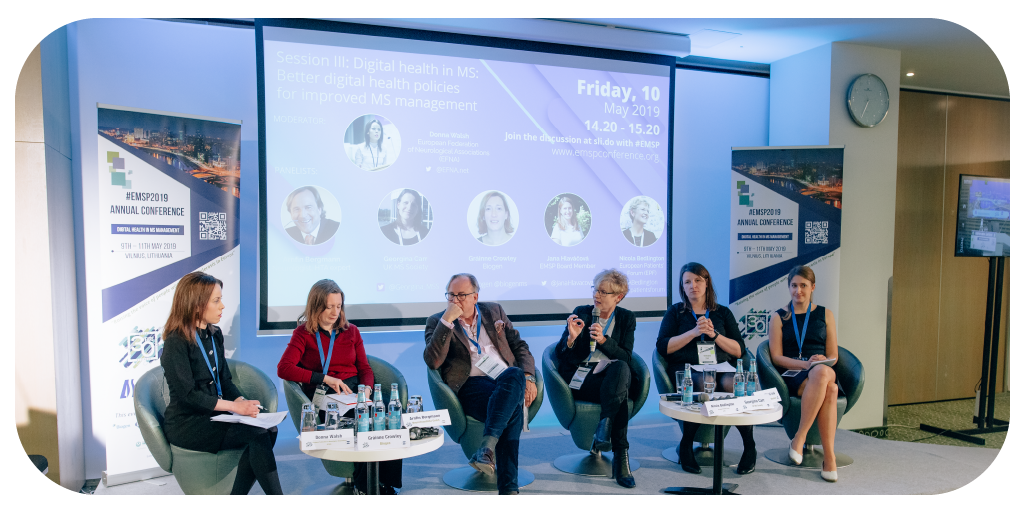 Our first day could not have been complete without celebrating EMSP's 30th anniversary in the framework of a Gala Dinner. After a welcome speech from our Vice-President, Torben Damsgaard and our Treasurer, Klaus Knops, we had the opportunity to not only enjoy the pleasure of the company of our guests but to also experience a night with authentic Lithuanian flavors and entertainment.
Just doing it: Life with MS
We opened the second day of the conference with testimonials coming from two people living with Multiple Sclerosis. Vaiva Sinickiene from Lithuania and Amandeep Donna Nahal from the UK shared their personal stories and experiences about living their lives with MS, emphasizing the true power of family and community.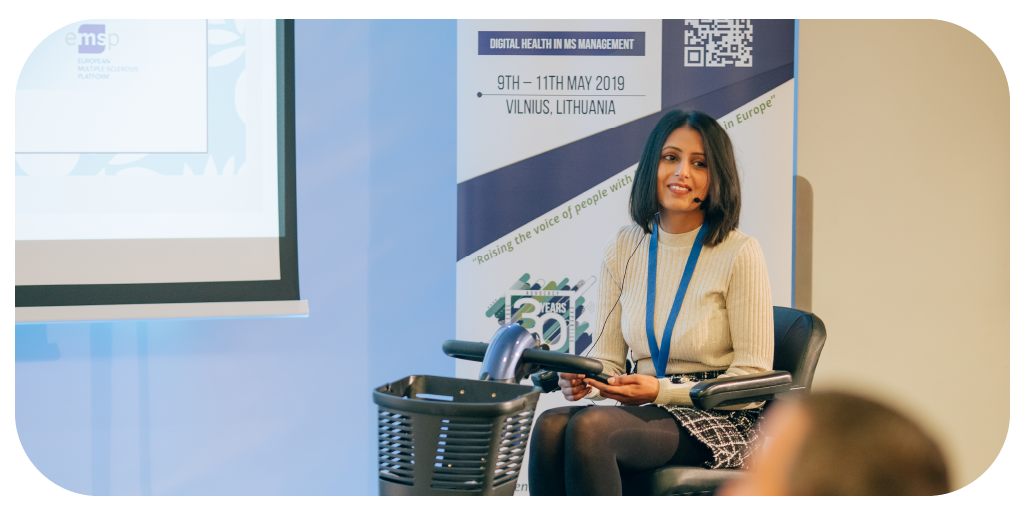 Clinical research workshop
Having received our daily motivation, a slightly different setting followed. After the testimonials, our attendees became participants of a professional workshop on Clinical Research, facilitated by Marleen Verbeeck, coach of the European Centre for Clinical Research Training (ECCRT).
Mrs. Verbeeck presented the requirements of clinical research focusing on four aspects, including ethical principles, available information, informed consent, patient centricity, and digital health in the context of clinical trials. Through an interactive workshop, the participants learned about the European clinical trials database and all the credible resources where people with MS can find more information about previous, ongoing and upcoming clinical trials.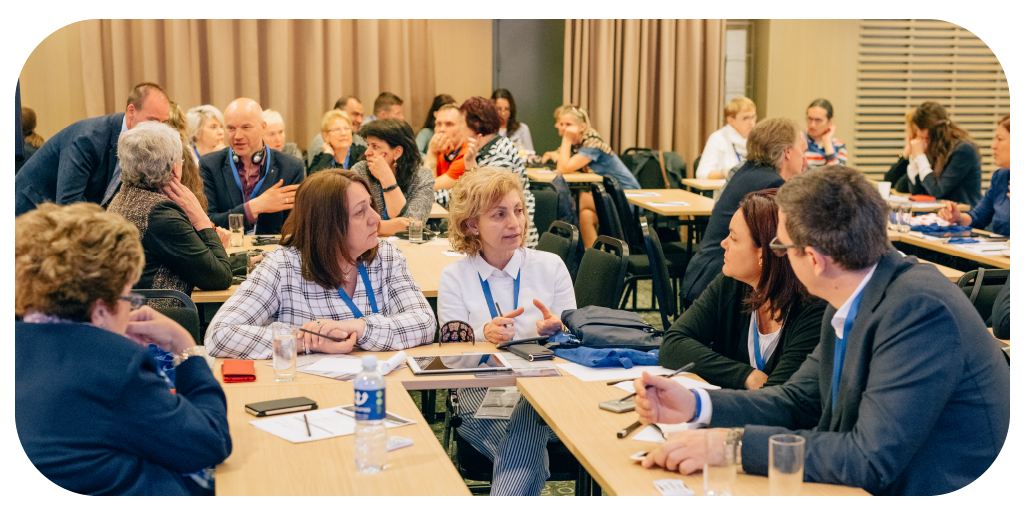 At the end of the workshop and after several fruitful interactive group activities, we were reminded of the importance of future learning, rapid feedback loops between user and research, as well as how they can contribute to data-driven innovation. It is crucial to remember that Real World Evidence and patient-centricity can bridge the gap between clinical trials and regular medical care. Data from everyday use (practice) and data from clinical trials are coming together thanks to digital developments.
Digitalisation can help make information related to clinical research more user-friendly. Real-world evidence data can help people avoid hospital time, meaning that virtual visits can ultimately empower people affected by multiple sclerosis to drive innovation.
But information, abundantly present on the internet can be complicated and the overload can be scary. As a last and most important take-away message, participants were reminded to always discuss all their questions with their healthcare professionals first, and to equip themselves before making a decision.
Launch of the EMSP Annual Report 2018
Following the EMSP Annual General Meeting on the 9th May, we launched our Annual Report 2018.
The event was co-hosted by the Lithuanian MS Society and supported by our sponsors, who we would like to express our sincere appreciation for their generosity: Biogen, Celgene, MedDay, Merck, Novartis, Roche, Intersurgical, Committee on Social Affairs and Labour of the Lithuanian Parliament, Sanofi Genzyme and TEVA.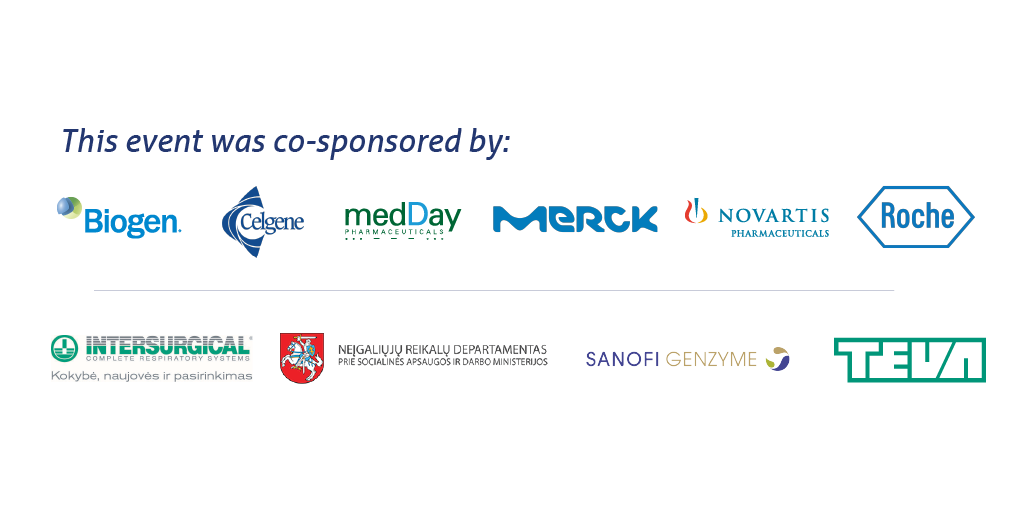 ---