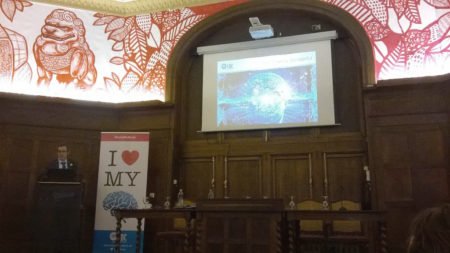 ---
From Europe
EBC debate: Expanding brain research
16.03.2017
EMSP's partners at the European Brain Council (EBC) organised a lunch debate to mark the Brain Awareness Week and to promote their 'I Love My Brain' initiative to a multi-stakeholder audience.
The event took place on 14 March in Brussels and was titled 'Expanding Brain Research in Europe: A Societal Need?'
The main objectives were to recognise brain disorders as social and economic burdens, and to further stimulate brain research. Healthcare professionals, EU representatives and patient advocates all held key speeches.
Find more details here.
What is Brain Awareness Week?
Brain Awareness Week (BAW) is the global campaign to increase public awareness of the progress and benefits of brain research.
Find more information here.
Stephane Hogan of @EUScienceInnov on 'addressing the continuum from knowledge to care delivery' #ILoveMyBrain pic.twitter.com/GACT9wZFBf

— European MS Platform (@eumsplatform) March 14, 2017
I Love My Brain
EBC created the #ILoveMyBrain logo as a communication tool to connect all the work done in support of brain health with a focus on prevention and treatment of brain disorders in Europe.
Find more information here.
---