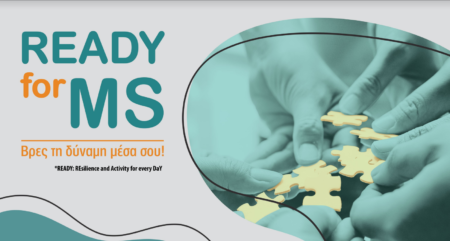 ---
From Europe
Building the psychological flexibility of people with MS in Greece
29.11.2021
In the last months, the Greek MS Society (GMSS) launched a holistic healthcare and well-being programs for people living with MS and their caregivers. Their projects aims to improve the emotional and psychosocial well-being of both people living with MS and their closest surrounding environment (their caregivers).
READY for MS in Greece
The Greek MS Society (GMSS) decided to implement the Greek edition of the famous "REsilience and Activity every DaY for MS" ( READY for MS) program as a research protocol (RCT).
The READY for MS is a structured psychoeducational program that was specifically developed to build and promote psychological flexibility, the key ingredient of resilience in people living with MS.  This program is based on a third-generation cognitive-behavioral approach that targets positive psychological skills that can enhance core life domains, such as thoughts, emotions, relationships, values, and everyday life behavior. READY is a psychosocial resilience training program facilitated by trained psychologists. It consists of 8 online sessions, with a duration of 2,5 hours, that involve psycho-education, discussions, experiential exercises, and home assignments.
This scientific and data-proven program (READY) was developed by Pr. Pakenham et al., in the School of Psychology, University of Queensland (UQ) and applied in many countries and in different settings. Among them, Pr. Ambra Giovanetti, applied the READY for MS program in Italy with great results to the psychological indexes of people living with MS (resilience, psychological flexibility, depression, anxiety). After two years of preparations, extensive communications, and through the  COVID-19 pandemic, in October 2021 GMSS managed to launch for the first time in Greece the READY for MS program for Greek people living with MS, in a form of a research protocol.
Virtually accessible due to the pandemic
The Ready for MS program has been facilitated via videoconference (online sessions). In this way, GMSS managed to jump over the obstacles of imposed social distancing, and furthermore, the program became absolutely accessible to every interested Greek people living with MS, across the country and even more, across the world.
A team of 4 volunteer trained psychologists, devoted a year of hard work, and through the guidance of the GMSS and the UQ, they translated the "READY for MS" Therapist and Participant manual into Greek, they created portable e-handbooks with a personal plan of exercises for the participants, they also created podcasts of mindfulness exercises and they set up all the essential procedures to apply the research protocol in a digital form.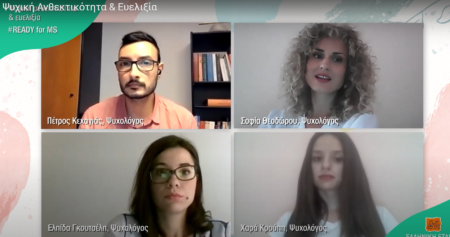 There was a quick and enthusiastic response of the majority of the people with MS in Greece, which was a result of a well-organized digital campaign. Ready for MS will continue to be delivered as a research protocol by GMSS, until the end of 2022, when the final clinical results of the study will be announced in scientific papers and conferences.
---