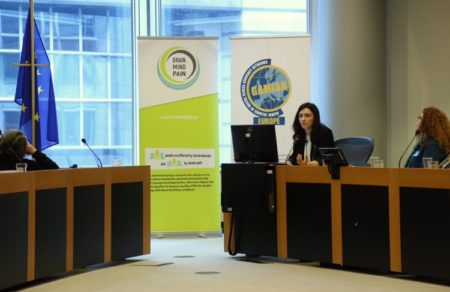 ---
From Europe
Brain, Mind and Pain group: Building the European Pillar for Social Rights
10.03.2017
The Brain, Mind and Pain Interest Group in the European Parliament discussed the European Commission's recent public consultation on building a European Pillar for Social Rights.
The meeting took place on 8 March and produced proposals to optimise the European Pillar.
MEP Marian Harkin reminded those in attendance of one key reason behind this EU initiative: European citizens have suffered from social injustice, rising inequalities and lack of social protections due to the financial crisis and related austerity measures.
"The time has come to mainstream social fairness and social protection in all EU policies", said Marian Harkin.
Empowering people with MS
EMSP was represented at the meeting by Public Affairs Coordinator Andreea Antonovici (pictured above).
Ms Antonovici conveyed EMSP's point of view on the European Pillar:
"We have identified discrimination and the need for financial support as the most pressing issues regarding employment and social priorities.
EMSP has pledged to empower people with disabilities as they need to have access to the right tools and information in order to efficiently advocate for their rights."
Donna Walsh from @EUneurology discussing about European Social Pillars #MakeWorkWork Interest Group Meeting Wellbeing and Brain Disorders. pic.twitter.com/bimhJ3bjaM

— GAMIAN-Europe (@GamianE) March 8, 2017
Focus on employment
EMSP places employment, job retention and education for (young) people with MS high on its agenda.
Employment for patients needs to be considered a clinical outcome.
There is a strong relationship between work and health. Indeed, employment has a positive effect on the health and wellbeing of people with a range of chronic health conditions, including multiple sclerosis.
Find more about EMSP's activities here.
---