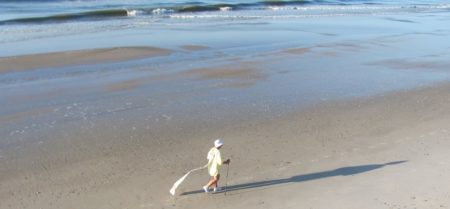 ---
From Europe
70-year-old MSer is fundraising for MS research: Walking a world of friendship for MS
29.07.2015
A 70-year-old person living with MS in Canada will be arriving in Belgium, on 14 August, as part of her global tour to raise awareness on the challenges of multiple sclerosis and also fundraise for MS research.
To mark her 70th anniversary, Angela Kirby embarked on a 13-country trip on 27 May – World MS Day. She intends to walk 5 kilometres around the world, naming her challenge 'A Walk World of Friendships for MS'.
"I am also acknowledging the 20th anniversary of my first MS exacerbation. Knowing we are all waiting for that elusive cure, I felt I that while I am still able, I should make a concerted effort to raise more funds, wherever I could, in whatever country I could, to fund research while at the same time getting to see family and friends around the world", said Angela Kirby in her message to the broader MS community in Europe.
Donations for Angela's Walk can be made by accessing this link on the website of the Multiple Sclerosis International Federation (MSIF).
More information on Angela Kirby's campaign can be found on the dedicated Facebook page.
---