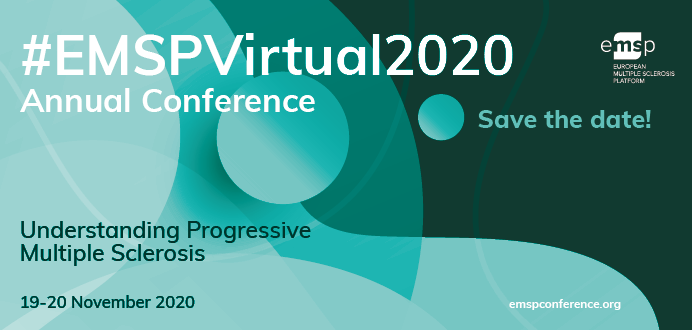 #EMSPVirtual2020 Annual Conference
20.11.2020
Event Location
We are happy to announce that the EMSP Annual Conference will go virtual and will be taking place online on the 19th and 20th November.
About the conference
The theme of this year's conference is "Understanding Progressive Multiple Sclerosis", with special focus on the latest developments in treating progressive MS, best practices, and daily life tips for those affected by this form of MS. The #EMSPVirtual2020 Conference aims at gathering the Multiple Sclerosis (MS) community and providing with learning and networking opportunities for the MS societies, individual patients, and other important stakeholders from the MS field across Europe.
Building on its continuous success in bringing together over 160 key delegates from Europe, EMSP will relaunch virtually this unique conference experience on the 19th and 20th November.
FREE registration
We have made the registration FREE for everyone to make our sessions and keynote presentations more accessible for MS societies, patient advocates, and everyone interested in taking part. Make sure to follow us for more updates in the upcoming days, so that you do not miss out securing your place!
Save the date in your calendars
Please visit emspconference.org regularly to stay up to date with the most recent news around the conference and do not forget to mark the date in your calendar. You will receive subsequent emails with information on how to sign up, as well as the detailed agenda.
We look forward to welcoming you on the 19th and 20th of November!