---
Background
18.06.2015
Getting young people into jobs is a top priority in all EU countries. The illustration of this is the Youth Employment Initiative which offers more than €3 billion in the form of grants to support young people into employment.
Dynamic and inclusive labour markets are essential to ensure that people with the right skills are employed.
The Treaty on the Functioning of the EU emphasised the importance of social cohesion as a means of combating social exclusion and discrimination. Yet, there are significant numbers of educated young people currently being excluded due to the fluctuating nature of their conditions. As a consequence, there needs to be a different approach which addresses the different issues that affect young people with MS.
The problems and solutions are complex and involve different aspects of European and national social policy.
Attention should be given to the EU-wide legislation that has a particular focus on the needs of young people and of people with disabilities:
Charter of Fundamental Rights
This Charter has been designed to strengthen the protection of fundamental rights and emphasise the universal values of human dignity, freedom, equality and solidarity.
Article 15 of the Charter states a person's freedom to choose an occupation and right to engage in work. 
Additionally, Articles 21 and 26 refer to non-discrimination and integration of persons with disabilities.
European Disability Strategy (2010-2020)
The European Disability Strategy is a renewed commitment to a 'barrier-free' Europe with focus on the continued discrimination of people with disabilities.
EU action – as outlined in this strategy – is needed to 'compliment national efforts'.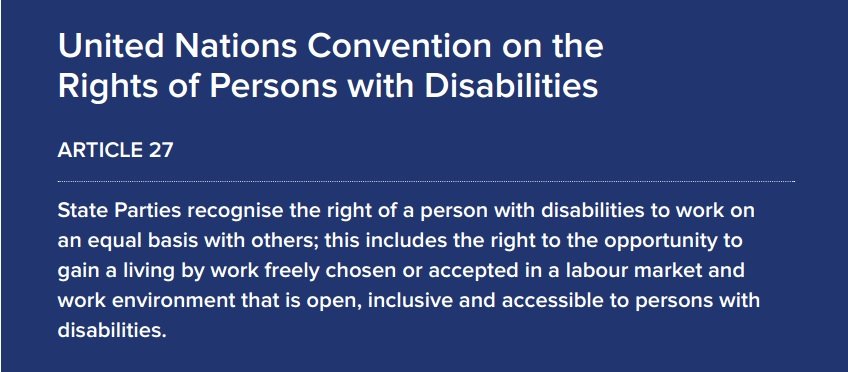 United Nations Convention on the Rights of Persons with Disabilities (UNCRPD)
The Convention is as a human rights instrument with an explicit social development dimension.
Moreover, the Convention adopts a broad categorisation of persons with disabilities and reaffirms that they must enjoy all human rights and fundamental freedoms.
Changing attitudes can take time but, through this framework, the rights of autonomy of people with disabilities are recognised and validated.