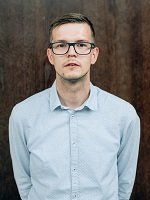 Patrik Puljić
Patrik is a 26-year-old student living in Zadar, Croatia. He was diagnosed with multiple sclerosis in 2011.
In 2015, Patrik participated in the Annual Conference of the European Multiple Sclerosis Platform (EMSP) in Warsaw, Poland for the first time and also in 2016 in Oslo, that motivated him to become an MS advocate.
Patrik got elected as the President of his local MS society in Zadar in 2016.
At EMSP's Annual Conference in 2018 in Bratislava, he became the young people's representative at the organization's Executive Committee.
His passion for advocacy drives Patrik to understand the disease better and to protect the rights of young people with multiple sclerosis at local, national and European level.