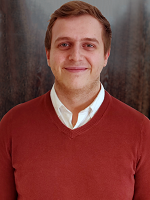 Jonathan Blades
Jonathan is the Head of Campaigns and External Relations at the UK MS Society. In 2020 Jonathan became a member of the European Multiple Sclerosis Platform (EMSP) Executive Committee by replacing his predecessor, Georgina Carr.
Jonathan has worked at the UK MS Society since 2016. At the MS Society in the UK, he works to ensure that policy reflects the needs of people with MS, on issues like access to treatment, social security, employment and social care.
Prior to working at the UK MS Society, Jonathan worked for a health policy and public affairs consultancy MHP Communications. He has previously worked for a UK based respiratory health charity and in the UK Parliament.
Jonathan believes that cooperation across Europe will allow all those working in MS to drive up the care of treatment of people with MS through a shared understanding.