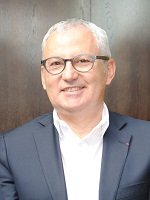 Claude Mekies
Claude is a neurologist from France. Since 1989 he has been involved with the French Federation of Neurology where he was president from 2012 to 2015. In 2018 Claude became member of the European Multiple Sclerosis Platform (EMSP) Executive Committee.
Currently he is the President of the French National Association of private neurologists (ANLLF) and he is member of several steering committees and advisory boards focusing on neurodegenerative diseases.
He has been involved in the development of numerous Multiple Sclerosis related digital tools and e-learning courses. In addition, he has contributed to more than 40 national and international publications on MS.
Claude has significant clinical experience in MS and he is an active participant in the development of therapeutic education that aims to empower MS patients to manage their disease and treatment.