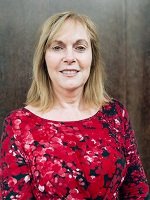 Anne Winslow
Anne is the former President of the European Multiple Sclerosis Platform (2014-2017), having acted as Vice-President since 2010. She has been working with people with physical disabilities for almost 35 years.
She worked in social work, then in social/health and personal services policy and service development both at an organisational and governmental level.
She was Director of services/Deputy Chief Executive with the Irish Wheelchair Association; Chief Executive of Multiple Sclerosis Ireland; Chairperson of the Neurological Society of Ireland; and Treasurer of the Disability Federation of Ireland.